Canadian Nursery Stock Standard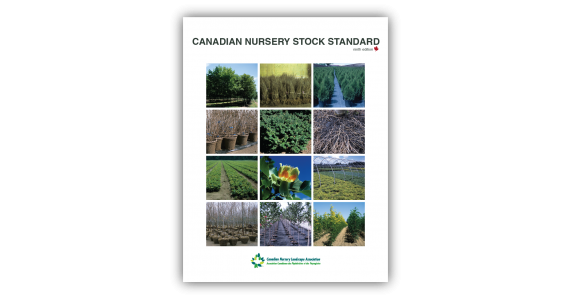 This is the ninth edition of the Canadian Nursery Stock Standard (CNSS). It was first published in 1967 as a standardized system for sizing and describing plants produced by the nursery industry to facilitate trade in nursery stock. Today it serves the same purpose, providing growers, distributors, specifiers, and purchasers of nursery stock with a comprehensive and consistent set of minimum measurements and specifications so that commercial transactions can occur in a common language. Measurement techniques include such things as specifying 1) plant size, 2) relationships between caliper and height or height and width, and 3) root ball or container size in relation to plant size.
Canadian Nursery Stock Standard ENG
Canadian Nursery Stock Standard FR
Using the standard
Growers and distributors of nursery stock should ensure that catalogue and contract documents conform to this Standard. Those who specify or purchase nursery stock should ensure that they provide growers and distributors with specifications that conform to this Standard. Compliance with this Standard is voluntary. The parties in a commercial transaction should agree that this Standard applies. Any transactions that are not compliant with this Standard may result in conflict between the parties.
This Standard is for use by professional horticulturists, landscape architects, and landscape designers who understand nursery stock attributes, plant nomenclature and terms commonly used in horticulture. It is not intended to be used in transactions with retail customers.
Nursery stock production in Canada and the United States share many similarities. As a result, and to facilitate trade between the two countries, this Standard maintains reasonable conformity with the American Standard for Nursery Stock (ANSI Z60.1-2014) published by AmericanHort. One difference between the two Standards is the use of metric (Canada) and imperial (United States) measurements.
The revisions included in this 2017 edition were developed by the Nursery Stock Standard Committee of the Canadian Nursery Landscape Association (CNLA). Prior to publication, the document was submitted to nursery/landscape associations, municipalities, and horticultural professionals across Canada for review and endorsement in order to develop industry consensus. It reflects the best practices of the nursery industry.
This Standard is subject to periodic review and may be updated at any time. Users are urged to obtain the most recent update from the Canadian Nursery Landscape Association website (www.cnla-acpp.ca).
Comments and suggestions for improvement of this Standard are welcome. All recommendations should be in writing. They should be concise but complete, stating the issue and providing possible solutions. Provide references to resources that CNLA should use in making its decision regarding your recommendations.
Nursery Stock Standard Committee
The following individuals served on the 2015-2017 revision committee.
Brett Mattson, Mattson Tree Farm (AB) (Committee Chair)
Bart Brusse, Sheridan Nurseries (ON)
Arnold Heuver, Arnold Heuver Consulting (AB)
Aaron Krahn, Lakeshore Tree Farms (SK)
Glen Lumis, University of Guelph (ON)
Harold Voogd, Sunstar Nurseries Ltd. (AB)
Rita Weerdenburg, Canadian Nursery Landscape Association (ON)
Many other individuals served on working groups or answered detailed questions during the revision process providing valuable advice and expertise. The editors acknowledge and thank everyone involved for making their work proceed smoothly.
Arnold Heuver and Glen Lumis, Ninth Edition Editors