Canadian Landscape Standard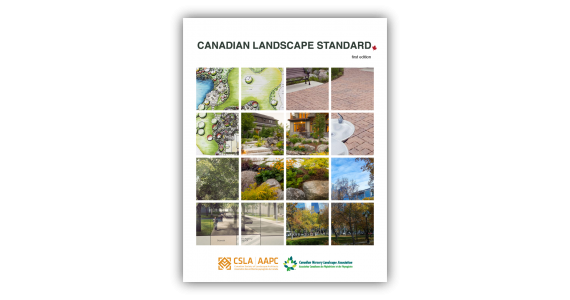 About
The purpose of this Standard is to document acceptable Canadian landscape construction practices as agreed upon by the CSLA, the CNLA, government authorities and other industry associations.
Using the standard
The single, authoritative resource for landscape construction projects across Canada.
This first edition of the Canadian Landscape Standard has been prepared by a joint Standing Committee of the Canadian Society of Landscape Architects (CSLA), and the Canadian Nursery & Landscape Association (CNLA). The initial 2016 publication of the Canadian Landscape Standard has evolved and expanded with the voluntary efforts of a wide range of individuals and organizations.  
This Standard sets guideline and makes recommendations for all major aspects of the landscape industry. It is intended that the Canadian Landscape Standard will set guidelines for landscape construction projects across Canada. It is intended for use by anyone who specifies landscape work, including landscape architects, landscape designers, municipal parks, planning departments, procurement departments, and allied organizations. It is intended for landscape contractors to support them in the bid process. Furthermore, it supports industry related educational and training programs. 
Although the standard is not a specification, it will help streamline the specification writing process by referencing one nationally recognized industry standard. This first edition of the Canadian Landscape Standard has been thoroughly reviewed by the Canadian Landscape Standard Steering Committee contributors and reviewers from across Canada and reflects the best practices of the industry. The CSLA and CNLA recognize this Canadian Landscape Standard as the national standard for the landscape industry.

Dedication
The CSLA and the CNLA humbly dedicate the Canadian Landscape Standard to all the volunteers from the British Columbia Society of Landscape Architects (BCSLA) and the British Columbia Nursery Landscape Association. They envisioned the BC Landscape Standard and through their leadership, turned that vision into reality. Landscape architects Ken McKillop and David Mitchell, and nursery growers John Mathies (Cannor Nurseries) and Don Fraser (NorthWest Landscape Supply) worked alongside Dr. John Neill (founder of the landscape architecture program at the University of British Columbia) to create the BC Landscape Standard. We are deeply indebted to these visionaries.
Acknowledgement
CSLA and CNLA wish to express sincere appreciation for the contributions of many industry subject matter experts, from the landscape architecture and landscape professions who contributed to the 2016 publication. The CSLA and CNLA extend a special acknowledgement to the following representatives of the industry.  

Standing Committee Members
| | | |
| --- | --- | --- |
| Paul Doornbos | Thornbusch Landscaping Company Inc. | Ontario |
| Don Hester | AECOM | Alberta |
| Bruce Hunter | Hunter Landscape Design Limited | British Columbia |
| Ron Koudys | Ron Koudys Landscape Architects Inc. | Ontario |
| Michelle Legault | Canadian Society of Landscape Architects | Ontario (National Representative) |
| Christene LeVatte, Chair | Highland Landscapes For Lifestyle | Nova Scotia (National Representative) |
| Jacqueline Lowe | ISL Engineering & Land Services | British Columbia |
| Tim Murray | Murray's Landscape and Horticultural Services Ltd. | Newfoundland and Labrador |
| Jack Payne | Classic Landscapes Limited | Alberta |
| Ben Scholten | Scholten's Landscape Ltd. | New Brunswick |
Contributors and Review Team Members
| | | |
| --- | --- | --- |
| Clinton Pinks | CBCL Limited | Nova Scotia |
| Tracey Mackenzie | Dalhousie University | Nova Scotia |
| David Stenhouse | Highland Landscapes for Lifestyle | Nova Scotia |
| Matthew Mills | Tract Consulting Inc. | Newfoundland and Labrador |
| Boyd Loveless | NutriLawn N&L Lawn Care Ltd. | Newfoundland and Labrador |
| Dan Glenn | Glenn Group Ltd. | New Brunswick |
| Alan White | Turf Systems Inc. | Ontario |
| Glenn Curtis | Plantenance Inc. | Quebec |
| Brent Vanderkruk | Connon Nurseries/NVK Holdings Inc. | Ontario |
| Carole Labrecque | GROUPE BC2 | Quebec |