Canadian Landscape Standard Second Edition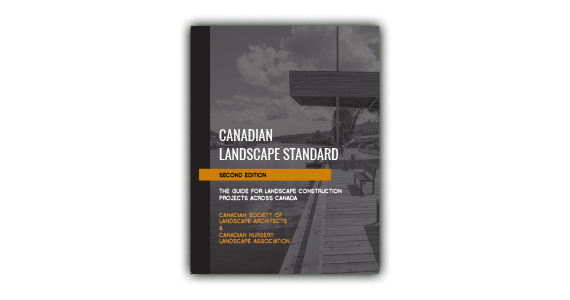 About
The purpose of this Standard is to document acceptable Canadian landscape construction practices as agreed upon by the CSLA, the CNLA, government authorities and other industry associations.
Using the standard
The single, authoritative resource for landscape construction projects across Canada.
The Canadian Landscape has been prepared by a joint Standing Committee of the Canadian Society of Landscape Architects (CSLA), and the Canadian Nursery & Landscape Association (CNLA). The initial 2016 publication of the Canadian Landscape Standard (CLS) has evolved and expanded with the voluntary efforts of a wide range of individuals and organizations.
This Standard sets guideline and makes recommendations for all major aspects of the landscape industry. It is intended that the Canadian Landscape Standard will set guidelines for landscape construction projects across Canada. It is intended for use by anyone who specifies landscape work, including landscape architects, landscape designers, municipal parks, planning departments, procurement departments, and allied organizations. It is intended for landscape contractors to support them in the bid process. Furthermore, it supports industry related educational and training programs.
Although the standard is not a specification, it will help streamline the specification writing process by referencing one nationally recognized industry standard. The CSLA and CNLA recognize the Canadian Landscape Standard as the national standard for the landscape industry.